Starter Pack
175.00 zł
Three amber glass bottles and a goodness mix pack – one of each. It's the easy way to start a new adventure with earth-friendly cleaning. Simple, aesthetic, and ecological.
This is the perfect kit to get started.
Goodness mix – a set of three tablets for the kitchen / bathroom / glass and mirrors.
With our fizzy tabs you can easily prepare cleaning sprays for your kitchen, bathroom, windows, and mirrors. Sprays prepared from our tablets are perfect for cleaning cooking grease, soap scum in the bathroom or dirty windows and mirrors. Enjoy the scents of nature and your drop, you add to the world without plastic!
Each of our packaging is FSC® certified, and thanks to the "One Tree Planted" campaign, you are that we plant more trees than was needed to produce our boxes.
bathroom – less than 5% anionic actives, lavandula angustifolia herb oil, linalool, limonene.
kitchen – less than 5% anionic actives, rosmarinus officinalis leaf oil, linalool, limonene.
glass / mirrors – less than 5% anionic actives, mentha piperita oil, limonene.
1. Pour 400 ml of lukewarm water into the bottle – just enough to cover the Släppa logo *. You can also measure 400 ml on a kitchen scale if you are using your own bottle.
2. If you use our bottles, match the tablet colour to the bottle colours print.
3. Put one tablet in the bottle and wait for it to dissolve.
4. Done! One tablet means 400 ml of cleaning spray. Now… screw the bottle cap, shake it and clean up in the spirit of less waste!
5. Show us how you clean and tag #addyourdrop on your profile :)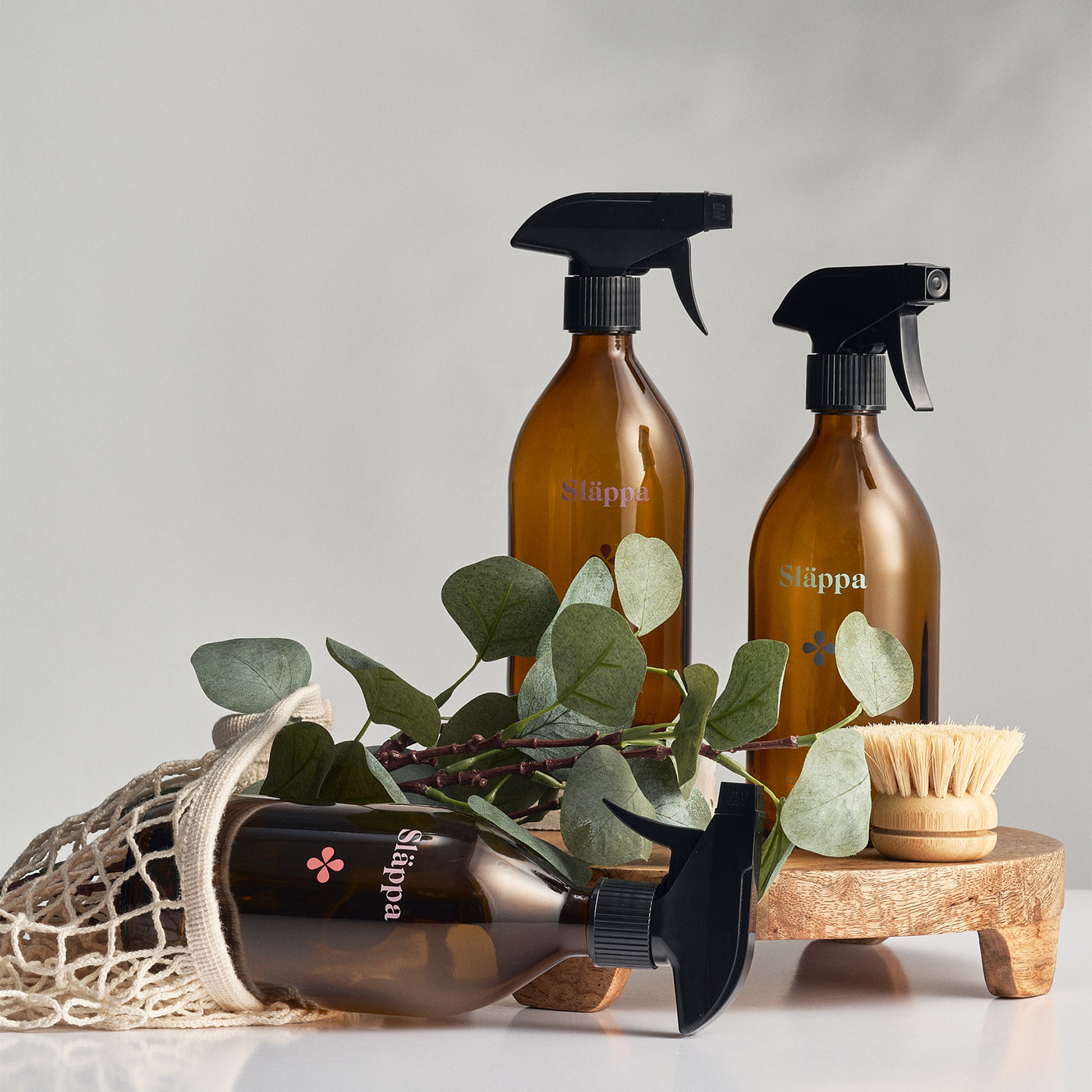 Plastic no more!
Say goodbye to plastic and welcome aesthetic glass bottles that will serve you for many years. Standard bottles of cleaning spray are certainly cheap to produce and designed to "shout" at us from the shelf. We, however, prefer calm and a balanced approach. You can start your adventure with Släppa in many ways. Perhaps you already have your own bottles, and our tablets are enough for you? Or perhaps you want to begin your plastic free adventure like a pro? If so – our starter pack is the best option for you.
Let the world see your amber glass cleaning products!
Starter pack consists of three aesthetic amber glass bottles, perfectly fit to your home. Each bottle has a sprayer and an application made in the screen-printing technique, so you always know which is which. We chose print over paper label, as they last longer and always look good.